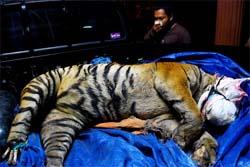 A resident saw Sumatran tiger carcass in the office of the Natural Resources Conservation Center (BBKSDA) of Riau, Pekanbaru, on Friday (1 / 10).
(ANTARA FB Anggoro)
Pekanbaru, 2 / 10 (Xinhua) - The medical team Central Natural Resources Conservation (BBKSDA) Riau Province conducted an autopsy on the corpse Sumatran tiger in the middle of the road which is behind the office, in Pekanbaru, Saturday.
Based pantuan ANTARA attending autopsies, hall officials put the estimated tiger was 4-5 years old on the asphalt road paved with blue tarpaulin. It was already dark conditions, so the medical team was forced to use emergency halogen lamp used during power outages.
In addition, they also assisted by lighting the lamp BBKSDA officer's car that highlights from various directions.
Sumatran tiger who autopsied the officer before dying in a cage BBKSDA on Friday (1 / 10) and then, after being caught in the conflict with humans in the village of Tanjung Tanjung rains which is a Biosphere Reserve buffer zone of Bukit Batu, District of Bengkalis.
The officer was forced to catch wild animals because they have preyed on a worker-owned palm oil and animal residents.
Head of Technical Area Conservation BBKSDA Riau, said autopsies performed to confirm the cause of death of the tiger. According to him, an autopsy is mandatory procedure carried out on protected animals that have died.
However, he did not explain why the autopsy carried out in the middle of the road.
"Autopsies conducted to determine the cause of death of the tiger," he said.
According to Veterinarian BBKSDA, Rini, a medical team found that poor tiger had been sick before he was arrested. Why, the medical team found abnormal lung function and heart that has been quite severe.
"Abnormalities in the lungs and heart tigers occur in a long process," he said.
He also can confirm that the cause of death was not the tiger was poisoned.
Previously, the WWF declared the death of tiger wild arrest was a result of an inappropriate procedure. The reason, related agencies do not involve paramedics in the process of catching the tiger while the presence of paramedics are standard procedures for handling wildlife.
PR WWF Riau Syamsidar said it also let the agency when citizens initiate the process of catching tiger using a wire snare that there is a section of steel wire and sharp pointy in oil palm plantations.
They trap the tigers to feed a chicken, watched a number of police personnel and officers Resources Conservation Service. When entrapment is successful, then the wildlife that was included in the cage that had been prepared.
"Capturing wildlife by using alternating snare usually practiced by hunters in the wild to avoid direct contact with animals that are hunted by humans for safety reasons in the party," he said.
*** 1 *** (T.F012)
(T.F012/B/I006/I006) 02-10-2010 09:29:58
Sumber : ANTARA News
(Sabtu, 2 Oktober 2010 09:32 WIB)